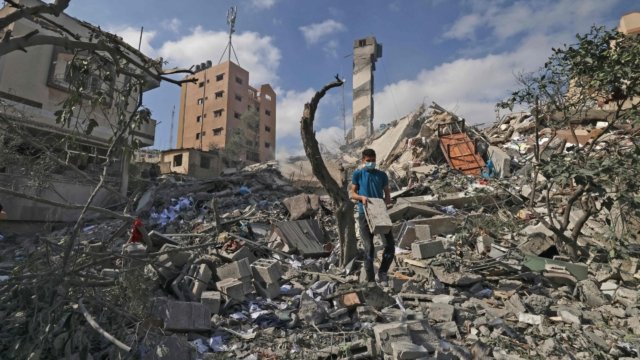 A flare-up of the Israeli–Palestinian clash in May Fights and revolts, police rebellion order, Hamas and Palestinian Islamic Jihad missile attacks on Israel, and Israeli airstrikes focused on the Gaza Strip marked the year 2021. The revitalized savagery began on May 6, when Palestinian fights started in Jerusalem over an expected choice of the Supreme Court of Israel to remove six Palestinian families from Sheik Jarrah, a neighborhood of involved East Jerusalem. Under global law, the region, adequately attached by Israel, is a Palestinian domain that Israel right now holds under belligerent occupation. The fights immediately swelled into savage showdowns among Jewish and Palestinian nonconformists.
On May 7, Israeli police stormed the al-Aqsa Mosque complex, Islam's third holiest spot located on the Temple Mount, Judaism's most sacred site. The police utilized nerve gas, elastic slugs, and daze projectiles against stone-tossing Palestinians. The heinousness coincided with Muslim-observed Qadr Night and Israeli-observed Jerusalem Day (9–10 May). The conflicts happened in front of an arranged Jerusalem Day walk by wide margin right Jewish patriots that were subsequently dropped. More than 300 individuals were harmed, for the most part, Palestinians, drawing global judgment. The Supreme Court administering was then deferred for 30 days as the principal legal officer of Israel, Avichai Mandelblit, looked to diminish strains.
Israel started a mission of airstrikes against Gaza; by May 16, somewhere in the range of 950 focused on assaults had wrecked, totally or in part: 18 structures including four tall building towers, 40 schools, and four emergency clinics, and struck the al-Shati evacuee camp. Likewise, in any event, 19 clinical offices have been harmed or annihilated by Israeli bombardment. By May 17, the United Nations assessed that Israel had obliterated 94 structures in Gaza, involving 461 lodging and business units. Because of the brutality, 232 Palestinians have been executed, including 65 kids, in Gaza by Israeli airstrikes.
Palestinian rocket fire has committed 12 in Israel, including one youngster. On May 11, the Israel Defense Forces reported that 15 Palestinian setbacks were confirmed to be Hamas members. Some Palestinian nonmilitary personnel casualties were caused by stray rockets fired from within the Gaza Strip. Starting on May 20, 2021, the Palestinian National Authority revealed wounds for in any event 1,900 Palestinians, while beginning on May 12, Israel announced at any rate 200 harmed Israelis. Starting on May 19, at any rate, 72,000 Palestinians have been displaced. Hamas suggested a cease-fire on May 13, but Israeli Prime Minister Benjamin Netanyahu rejected it. On May 18, France, with Egypt and Jordan, reported a United Nations Security Council goal.
Starting on May 20, Israel and Hamas consented to stop threats from 2 am on May 21 (11 pm GMT May 20).
April–May 2021 Ramadan occasions 
An Israeli police crew raided the Haram al-Sharif on the evening of April 13, the first day of the Muslim holy month of Ramadan, and cut off the amplifier ties, ignoring mosque orderlies used to communicate the al-Aqsa muezzin's custom call to supplication, so the discourse is conveyed by President Reuven Rivlin underneath, at the Western Wall. Simultaneously, they closed off admittance to the Damascus Gate, where Muslim admirers gather during the occasion. The hindrances at the Damascus Gate were taken out approximately fourteen days after the fact in the wake of fights. On April 15, a TikTok video of a Palestinian youngster slapping a super standard Jewish man turned into a web sensation, prompting a few copycat episodes. On the central Friday of Ramadan, when Israel placed a 10,000-man quota on supplications at the mosque, many Palestinian admirers were away from al-Aqsa. A Rabbi was defeated in Jaffa around the same time, resulting in two days of fighting.
On April 22, the extreme right Jewish supremacist bunch Lehava held a walk through Jerusalem, reciting "demise to Arabs." On April 23, after periphery military gatherings terminated a day and a half at southern Israel, The Israeli Defense Forces fired missiles into Hamas-controlled Gaza. A Palestinian child and a 19-year-old Israeli pilgrim were killed in the days that followed. On May 6, the Israel Police shot and murdered a 16-year-old Palestinian during an assault of Nablus in the West Bank. Itamar Ben-Gvir visited Sheik Jarrah right away before the conflicts started, where he said that the houses had a place with Jews and advised police to "open fire" on dissidents. Agence France-Presse detailed that Israeli pioneers found in Sheik Jarrah straightforwardly conveying attack rifles and pistols paving the way to the conflicts. A video was posted of Ben-Gvir, in a joke with Jerusalem's official city hall speaker, Arieh King, mocking a Palestinian occupant fired by Israeli police during a dissent.
Dispute from the past
The long-running argument about land in Sheik Jarrah is viewed as a microcosm of the Israeli–Palestinian disagreements regarding land since 1948. Israel's laws enable Jews to register claims to property they owned before 1948 in the West Bank and East Jerusalem. They do not, however, accept Palestinian claims to land in Israel that they own.
During the 1870s in Ottoman Palestine, a Jewish trust bought land in Sheik Jarrah from Arab landowners. Be that as it may, this is questioned by sure Palestinians have created Ottoman-time land titles for some land. The land went under Jordanian control following the 1948 Arab–Israeli War. In 1956, the Jordanian government, in conjunction with UNRWA, the UN Relief and Works Agency for Palestine Refugees, housed 28 Palestinian exile families ashore, claimed by Jewish trusts and supervised by the Jordanian Custodian Enemy Property. After the Six-Day War, the region fell under Israeli occupation.
In 1972, the Israeli Custodian General enrolled the properties under the Jewish trusts, which requested that the occupants pay the lease. Removal orders started to happen in the 1990s. The Jewish beliefs offered the homes a conservative pioneer association since rehashed endeavors to expel the Palestinian occupants. The Sheik Jarrah locale houses the relatives of exiles ousted or uprooted from their homes in Jaffa and Haifa in the Nakba of 1948. As per the Jerusalem Institute for Policy Research, this way to deal with property rights is unsuitable in worldwide law. Palestinians' inhabitants think Israeli courts have no ward there since the land is outside Israel's perceived lines; Tareq Baconi says that uprooting occupants in this setting disregards the Rome Statute.