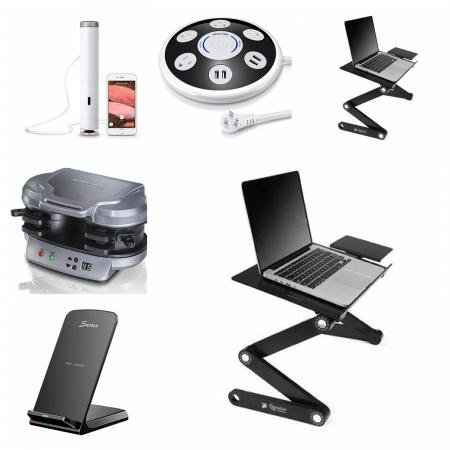 Hamilton Beach Dual Sandwich Maker
There's a joke to be made here, but the Hamilton Beach Dual Sandwich Maker is serious about sandwiches.
This gadget for man has everything you need for a perfect hot and toasty restaurant-quality sandwich — without the restaurant price. Warm your buns, warm your meat, and finish it off with your topping of choice.And best of all, the Hamilton Dual Sandwich Maker lets you cook two sandwiches at once, although sharing is up to you.
Specs
-Brand: Hamilton Beach
-Model: 25490A
-Weight: 2 pounds

Executive Office Solutions Laptop Stand
How many hours a day do you spend on your laptop?
Two? Five? Eight or more?
Whether you use it for work or play, chances are, you're not sitting in the same place the whole time. After all, moving from one room to the other and getting a change of scenery is one of the advantages of having a laptop.
But if you're strapped for space, you might find yourself working on the couch, in bed, or anywhere else you can take a seat. And if you use your laptop for too long, it could overheat, burn your legs, or leave you with an aching neck from looking down all the time.
Extend your home office beyond a single room with the Executive Office Solutions Laptop Stand. Not only does it have two cooling fans, but it was built with versatility in mind.
Its lightweight, sturdy frame does more than offer a portable surface for your laptop. Use it as a dinner tray, for sound equipment, projectors, as a standing desk, a tablet holder, or for anything that needs a flat surface.
Plus, it has non-slip feet and lockable legs that guarantee you don't have to worry about accidental falls and damage.
Key Features
-Lightweight and durable aluminum construction for easy and long-lasting maneuverability
-360-degree rotating legs to suit any position
-Fulfills a range of practical uses
-Quiet cooling fans cool your device without disturbing the peace
Specs
Brand: Executive Office Solutions
Model: FBA_EOS1
Weight: 3.64 pounds
BESTTEN 1800J Surge Protector

You know that plugging too many devices into a wall socket or power strip is risky. But if you're limited on power outlets, there's not a whole lot you can do.
If that's you, it's time to stop abusing the plugin and start playing it safe with the BESTTEN 1800J Surge Protector.
It's compact enough to fit anywhere you need it while offering plenty of functionality. Need to charge your phone, or have a bulky adaptor?
The BESTTEN Surge Protector handles both. It has four USB charging ports, four wide-space ground outlets, and won't block other outlets.
The fire-resistant design handles up to 1800 joules, so you can safely charge your devices. You can use this gadget anywhere thanks to its heavy-duty extension cord.
Key Features
Safely charge any electronic up to 2.4A simultaneously.
Get six additional feet with the heavy-duty extension cord
Made with fire-resistant materials and designed to handle up to 1800 joules
Slim, lightweight design lets conveniently bring it wherever you need a surge protector
Specs
Brand: BESTTEN
Model: USH-4U4A-6F-B
Weight: 1.7 pounds
Seneo Wireless Charger

Finally — a smartphone charger that works for Apple and Android devices!
The Anker Wireless Charger takes the inconvenience out of charging your phone by eliminating the cable so you can enjoy a fast charge no matter where you are.
Conveniently browse the web, use facial recognition, or take pictures in landscape or portrait mode with the PowerWave stand dual-charging coils.
The Anker Wireless Charger connects to your phone in its case up to 5mm thick so you don't have to worry about it breaking, cracking, or getting scratched while docked. And if you have a Samsung, you can enjoy a charge that's 30-minutes faster than other wireless chargers.
Breville Joule Sous Vide

Even if your culinary skills stop at pouring cereal, the Breville Joule Sous Vide can make you feel like a master chef.
Its slim design is only matched by its performance, which delivers 1100 watts to heat up to 40 liters of water in no time at all. By connecting the Breville Joule Sous Vide to your phone, you can not only cook from anywhere but keep an eye on your food so your dish comes out perfect time after time.
Its compact shape stows easily so you can save space even in the smallest of kitchens. Bluetooth connectivity and Wifi pairing give even more accessibility with Alexa for hands-free, effortless cooking. It's the perfect gadget for men, no matter how experienced they are in the kitchen.

Key Features
The slender, 11-inch device can be easily stored
Built-in Amazon Alexa feature for voice control
Bluetooth and Wifi compatible
Powerful 1100-watt output boils water fast
Specs
Brand: ChefSteps
Model: CS10001
Weight: 1.28 pounds