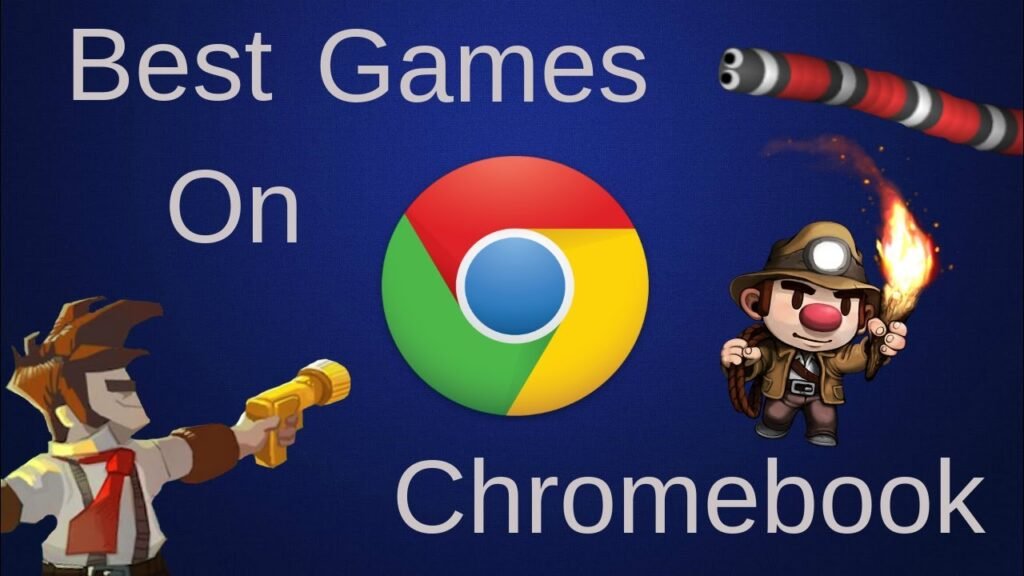 Chromebooks are not popularly known for gaming. However, in recent years things are changing at a rapid pace.
Google is introducing millions of Android smartphone games on Chrome OS with mouse and keyboard compatibility.
So, if you need information about the current state of gaming on Chromebook, you have landed at the right place.
In this article, we have listed multiple games that you can play on your Chromebook without glitch or lags.
1.    Lode Runner 1
Lode Runner is one of the best vintage games that you can play on the Chromebook. If you have ever played the classic Lode Runner game, you might already be aware it is one of the best puzzle games.
Nexon, the company that developed this game has now created it for Android with better keyboard functionality and graphics. The game is optimized even for Chromebooks.
You just need to move the arrow keys to move and Z & X keys to fire the beam.
2.    Mars
It is one of the simplest and most addictive games you can find on the Play Store. You just have to land on pads one after the other while balancing the reinforcement.
The two side arrow keys are only required to play this game. One to shoot the reinforcement to the left and the other to the right.
You can also press both the buttons simultaneously to maintain balance.  The graphics and sound quality of this game make it more intensive.
3.    Asphalt 9
Asphalt is one of the popular racing games that we have on your list. This is the best-optimized game available for Chromebook. Not just the game but also the menu can be navigated through the keyboard.
You can also change the keyboard controls as it works on both automatic and manual steering modes. As expected from Asphalt, the graphics are above the edge. Though a heavy game, it runs seamlessly on most Chromebooks, even on lower versions.
You can also check the Asphalt 8 which is now optimized to work with a keyboard.
4.    Limbo
Limbo is a puzzle game that was introduced for Xbox but was later ported for many operating systems, including Android. Though a puzzle game, it becomes more intense as you move forward in the forest and make use of different things to survive.
The game is designed into an entirely black and white format which makes it a more intense and amazing gameplay experience. It supports both keyboard and trackpad. However, you need WASD navigation keys to play it.
Using earphones while playing this game boosts the experience. This game is not available for free.
5.    PAC MAN 256- Endless Maze
You might already be aware of this game. However, the original PAC MAN game that is available on the Play Store does not support the keyboard.
For this, there is another version known as the PAC MAN 256 that uses the full Chromebook interface.
It is not the exact PAC MAN game, but an endless version with an endless maze. The quality has not changed much. It only requires 4 arrow keys to turn the direction.
6.    San Andras
This game of Grand Theft Auto had to be on our list. Many might have already played this game on their Windows OS or Apple's MAC. It is an open-world game where you can do whatever you like or complete missions.
It also has a mobile version available on the Play Store. Though this game does not support a mouse or keyboard, it runs smoothly. But, you can only install it if your Chromebook is convertible as it does not support a mouse or keyboard.
7.    Alto's Odyssey
It is a kind of Arcade game that only requires a touchpad. You just have to surf around the desert while escaping the obstacles. The sound and graphics of this game make it more immersive.
Just left-click whenever needed. The game might seem easy but it is not. Its level becomes tougher as you move forward.
You can also use the Chromebook's touch screen for playing which is more convenient than a trackpad.
8.    DOOM 2
Remember the classic DOOM game which you could play on your Android smartphone? Now it supports mouse and keyboard support too. Experience nostalgia by downloading the game from Play Store.
This game is a first-person shooting game with the 1990s pixelated graphics. Though not modern in looks, this feature makes it special from the rest of the games on the list.
9.    SimCity
Wanna build a dream city of your own? Try the SimCity game. Building the city also includes managing water, materials, factories, colleges, hospitals, the internet, schools, etc. This game is difficult to play on smartphones due to their small screens.
However, on Chromebooks, you can view it on a large screen and control it using a trackpad.
10. Into the Dead 2: Zombie Survival
Most of the shooting games available on the Play Store are not available on Chromebook as most of them do not support touch input. However, Into the Dead is an exception.
It is basically a zombie survival game where you need to escape and kill zombies. The touchpad works perfectly. However, for a shooting game like this, a mouse is better for precision.
As this is a zombie and shooting game, you can expect a large amount of bloodshed and violence into it.
Conclusion
Apart from the above games, Google is introducing Stadia which can prove to be the ultimate future of gaming on Chromebooks. It enables you to play all games as the games load on the Google server and not the device.