As the coronavirus (COVID-19) pandemic continues, the World Health Organisation (WHO) stands by its advice for a cautious approach to avoid infection.
As a result, health tips like handwashing and the use of hand sanitisers regularly, are recommended to kill germs and bacteria present on all hands and surfaces. However, you might be surprised and somewhat concerned that WHO recently announced not all hand sanitisers are effective against COVID-19.
If you find this alarming, we suggest you read on as we have some exciting insights which help you better understand the essential ingredients you should look out for when purchasing a hand sanitiser. How effective your hand sanitiser is in neutralising bacteria and other viruses on surfaces could make the difference between you being infected and passing the virus on to your family, friends or co-workers.
We delve into the effectiveness of handwashing and the benefits of hand sanitisers and some great alternatives you can substitute with products you are likely to have around your home.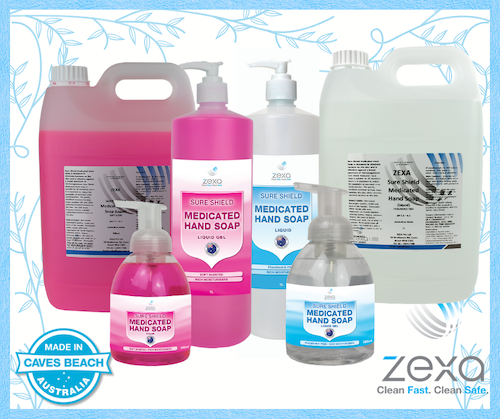 Why Alcohol is Used in Hand Sanitisers
Hand sanitisers are a great alternative to soap, before the COVID-19 outbreak, hand sanitisers were a convenient way to sanitise your hands when hand washing wasn't practical or possible. Both hand and surface sanitisers kill germs and harmful bacteria on contact and help prevent cross-contamination from person to person from the surfaces we come into contact with regularly.
Pathogens can stay active on surfaces for days, making your workplace or home a potential breeding ground for germs and cross-contamination. It makes sense by reducing the number of bacteria your body is exposed to, the less likely you will succumb to sickness. Aside from regular hand washing, it has been widely publicised proper sanitisation of your hands and surfaces is your best protection against contracting viruses like COVID-19.
All hand sanitisers have a certain percentage of alcohol added to the mix designed to kill harmful pathogens effectively. Medical experts have alluded to the benefits of alcohol as an effective disinfectant for decades while being gentle to your skin. However, as every hand sanitiser is unique in its chemical composition, they also contain varying amounts of alcohol effectively impacting the sanitiser's effectiveness to kill germs and bacteria.
The U.S. Centre for Disease Control and Prevention (CDC) advises people to purchase hand sanitisers with a minimum of 60% alcohol.
The important takeaway here is that when buying sanitisers, check to see that it contains at least 60% alcohol otherwise it's likely you're paying for hollow promises—leaving yourself open to exposure from harmful bacteria.
When Should Hand Sanitisers be Used
Manufacturers like Zexa lead the way in the production of hand and surface sanitisation. Hand sanitisers are essentially disinfectants that are gentle to the skin to avoid irritation or allergic reactions and the reason why they have risen in popularity. When you consider the fear of contagion of COVID-19 and add the convenience and portability of hand sanitiser, you can see why it makes sense. We recommend you keep a small bottle of hand sanitiser with you at all times, in your car, workplace or school bag.
Governments globally are unified in their message in preventing the transmission of COVID-19 through recommendations to keep hands clean and protect virus entry points, like your nose, eyes, and mouth.
According to Doctor Jeanne Lorraine Gricoski of Geisinger Orwigsburg, hand sanitisers help a lot in minimising the spread of pathogens associated with flu, cold, and COVID-19 disease.
Here are some instances where hand sanitisers might come in handy:
Running errands or shopping.

Visiting loved ones, or a friend in a nursing home or hospital

Or places where soap and water are not freely available.
Washing With Soap and Water is Simply Unbeatable
According to the CDC, handwashing is one of the most efficient ways to prevent the spread of infectious diseases like COVID-19. Yes, you have read that correctly, hand washing is still the most effective way to keep hands clean and if you like to understand why the reason is simple—washing removes dirt while hand sanitisers do not.
Handwashing is the best way to protect yourself, family and co-workers while lowering transmission rates significantly. Handwashing is the only safe way to clean your hands which avoids destroying healthy bacteria which perform the essential function of boosting your immune system through everyday exposure.
Effective Sanitising Alternatives to Soap and Hand Sanitisers
The increase in demand for hand sanitisers has led to a shortage of supply and a significant increase in price. However, there are several alternatives you can use to protect yourself and your family from the virus.
Here are some of them;
Himalayan Salt:

A natural antiseptic/disinfectant, which makes it ideal for spraying surfaces or as an affordable hand cleanser. It's also great for ridding yourself of a sore throat and reducing breakouts of acne.

White Vinegar:

Household supplies like white vinegar have antibacterial properties that can help limit the growth of and eliminate pathogens. You may use white vinegar to disinfect frequently touched surfaces in your homes like doorknobs, keyboards, countertops, toys, desks, and light switches.

Hydrogen Peroxide:

The CDC claims that this product can kill fungi, mould spores, yeasts, viruses, and bacteria. You can use it to disinfect your countertops, dishwashers, sinks, toilets, cutting boards, etc.

Lemon:

Lemons have many health benefits to strengthen your immune system and help fight diseases. These fruits also have antiseptic and antibacterial properties that can prevent bacterial growth and infections. To prepare your lemon disinfectant, put lemon rinds in a glass jar and soak them with vodka for 1-6 weeks. When the colour of the solution becomes yellow, pour it in a spray bottle using a filter and use it to disinfect your home.

Tea Tree Oil:

This oil has antiviral and antiseptic properties and topically applied as a treatment for acne, fungal diseases, skin abrasions, and bug bites which makes it ideal for disinfecting and treating various illnesses.

Sunlight:

Sunshine provides many benefits to your body, a source of Vitamin D—it's perfect for boosting your immune system. Several studies also showed sunlight exposure resulted in better recovery rates of COVID-19 patients.
Final Thoughts
As you can see, there is no one-size-fits-all solution when it comes to hygiene. Putting the fear of COVID-19 aside, the most significant contribution to the health of humanity over the centuries indisputably has been the discovery and practice of hygiene.
Looking after your health, eating right, exercising, keeping your life free from stress and following sensible sanitising advice will ensure the majority of us remain healthy. The next time you stop and touch a surface, shake a hand or visit the bathroom, consider how you view and practise hygiene not only impacts your health but others you interact with daily.