The COVID-19 pandemic has pushed the boundaries of day to day lives, revamping every single process and operations. When 'remote everything' became the new norm, education obviously was the first sector to transition to remote-only, considering the safety of students as well as educators.
While remote learning has been a great way to ensure continuity in learning for older students, for younger kids, it has been a real challenge- for the students themselves, the educators as well as the parents. Diminishing attention spans, multiple distractions, and already busy parents- doesn't seem like a very 'learning-friendly' combination, does it? As educational institutions and schools across the world consider virtual learning as a viable option even after the pandemic subsides, it is important to understand both sides of the coin. Hence, while we all rave about the benefits of virtual learning, there are also several downsides to virtual learning. Let's have a look at the pros and cons of virtual learning and learn how with the help of the right EdTech, it can be made a success.
Pros of Virtual Learning:
Flexibility
This is undoubtedly one of the best things about virtual learning- students are not constrained to attend study at a set hour. Of course, this doesn't apply to the scheduled online live classes but for the pre-recorded courses and study material that can be consumed at one's own preference. This flexibility comes handy, since not everyone's routine, especially for the older students is the same, and flexibility to learn means fewer missed classes. Moreover, different students have different circadian rhythms which means not everyone can focus at the same time during the day (or night) and virtual classes enable students to leverage the flexibility and take classes when they feel most comfortable, focussed and engaged.
Diverse educational material
It is a well-known fact that today's world is fixated with screens and audio-visual content has higher demand and is also observed to be more engaging and interactive. With virtual learning, extending course materials with the help of videos, audios, and presentations is possible. Furthermore, the course resources can also be converted into readable content which means the students can pick and choose whichever resources they feel comfortable with.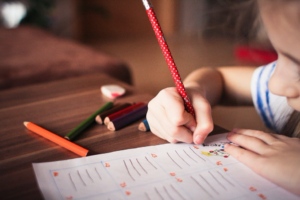 Affordability
Distance learning is by all means more affordable and accessible to students than on-premise learning. Schools can save on infrastructure, students can save on transport and attend the classes practically from anywhere, which further brings down the cost of education drastically.
Cons of virtual learning
Devices can be a medium for distractions
Photo by Patricia Prudente on Unsplash
Virtual learning happens via digital devices- tablets, iPads, or laptops connected to the internet. These same devices can be misused or improperly used by the students for non-educational purposes- from mindless browsing to entertainment and gaming. While the right balance of both is not harmful, with students having access to a device dedicated to themselves, the possibilities are endless and this can go down the hill too quickly. Apart from causing distractions, unadministered use of digital devices can lead to security and privacy threats.
No social interaction or relationships
One of the biggest advantages of on-premise learning is the social element it brings, which is critical for personality growth as well as psycho-social development in kids. When kids are in the presence of their peers, they develop new skills and learn the art of sharing. With virtual learning, students do not get to interact with their peers and if continued for longer, might lose out on developing socio-personal relationships.
Limitations to practical learning
Virtual learning involves a lot of knowledge exchange and assessment but that cannot be a replacement for practical learning, especially studies where students need to perform physical experiments. With virtual learning, students miss out on practical learning- be it chemistry experiments in the lab or field trips.
How the right EdTech helps:
EdTech has been evolving exponentially in the last decade and has been monumental in helping students and educators sail through tough times such as the pandemic. With the help of right EdTech, the limitations of virtual learning can be overcome.
The right EdTech tools when coupled with managed student devices can be locked down to educational apps and restricted browsing to allowed websites. This ensures that students can make full use of the device for education and learning but cannot misuse the device for any other purpose. Security and access control policies can further help in combating privacy threats.
An ideal EdTech tool also comes with a secure communication channel where students can interact with their peers, attend virtual picnics, and group discussions in a controlled environment. This communication can be maintained within the security protocols ensuring that it cannot be misused, the communication is monitored, and to avoid cyberbullying and the likes.
Practical learning is irreplaceable but the right EdTech has programs designed to keep the students engaged and learning off-screen, with assignments and homework that involve a lot of off-screen activities.
To summarize…
Virtual learning is a boon and a great way to ensure continuity in learning in unprecedented times as well as beyond, creating a fair and equal learning opportunity for all. When bundled together with the right EdTech, virtual learning can be highly beneficial and future-proof!
Author Bio
Renuka Shahane
Renuka Shahane is a Sr. Content Writer at Scalefusion -a leading Mobile Device Management for Education. An engineering graduate, an Apple junkie and an avid reader, she has 5+ years of experience in content creation, content strategy and PR for technology and web-based startups. Renuka is keen in learning new trends surrounding cybersecurity, repercussions of remote working and the evolution of enterprise mobility.