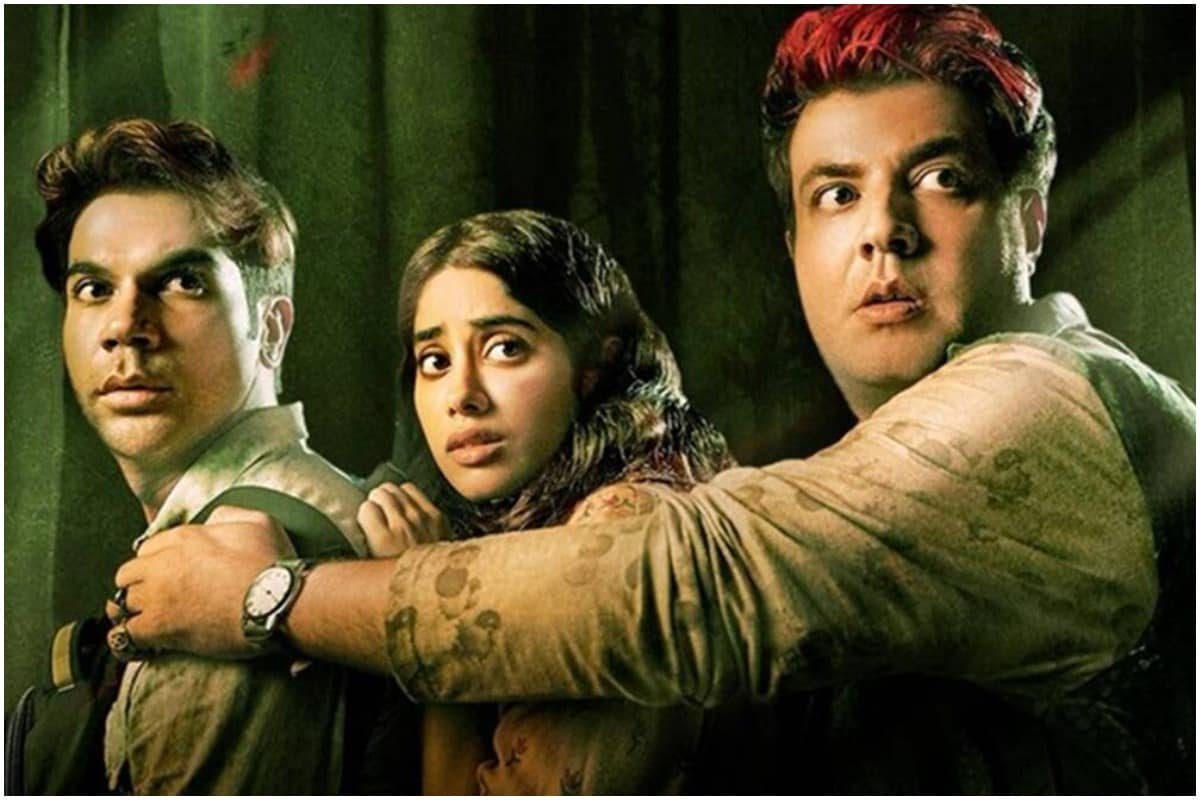 Roohi
Cast: Janhvi Kapoor, Rajkummar Rao, Varun Sharma
Director: Hardik Mehta
There is a very clear Fukrey vibe to Roohi, in fact there are scenes which will immediately remind you of Choocha and his unhinged love for Bholi, only that there's a 'churail' (ghost) around. And it's not any ordinary ghost but 'Mudiya Pairi' (literally twisted ankles).
In and around Bagadpur, which has people speaking several dialects, there's a tradition of 'pakdai byah' (bride kidnapping). Bhawra Pandey (Rajkummar Rao) and Katanni (Varun Sharma) are among the contract goons who get such weddings done. The twist in the tale comes when they abduct a possessed girl Roohi (Janhvi Kapoor) and then fall in love with her as Sharma hilariously calls it 'the exercise of imlie'.
Written by Mrighdeep Singh Lamba and Gautam Mehra, Roohi is totally about spontaneity and a solid beginning. Though both Rao and Sharma are in their favourite zone, but their back and forth and punchlines evoke laughs. The first 15-20 minutes of the film have more spoken words than an entire Vishal Bhardwaj film. Director Hardik Mehta (Amdavad Ma Famous, Kaamyaab) has got his hands on the pulse of the young audiences. He knows when to go for the oneliners and when to use overpowering background score to enhance the charm of a jungle and a funny ghost situation.
Because Stree came first, so you might notice similarities but at the core of Roohi lies a lesser complicated idea. The only hindrance is that by the time we reach the point of resolution, almost everything has been repeated at least twice and the viewers are hammered with Choocha and Aaloo (Rao, Ludo) antics. If we avoid nitpicking then it's actually quite enjoyable, certainly better than the heavy-duty notions hurled at us in the second half.
Kapoor's quickly shifting moods and voice modulations seem funnier than intended. At one point of time, it begins to feel like a split personality film gone completely awry. Thankfully, Rao and Sharma, mostly the latter, know their boundaries and stick to their strengths.
Mehta, as director, while working with a convoluted script, creates some praiseworthy imageries, like that of an old lady doing cardio or Rao spreading his arms like Shah Rukh Khan in a silhouette. Such ploys instantly create a light mood where one would be more inclined to appreciate the efforts to create situational comedy. Despite being predictable and some disconnected scenes, Roohi has a tone of its own. It's very talkative and has one point agenda — word play to the most.
You may not remember this 145-minute film for its ideas but you'll remember it for high entertainment quotient. Just like Hera Pheri, Thank You and Ankhiyon Se Goli Maare, Roohi too establishes an instant connect in spite of outrageous situations and extremely over the top comedy.
Rating: 3/5